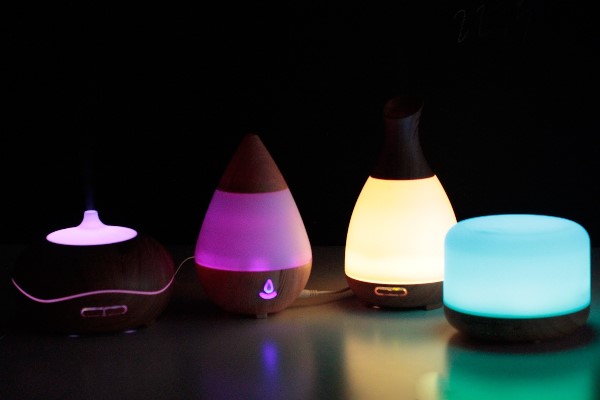 Aroma Diffusers

Aroma Diffusers are timeless and elegant, they provide a flameless and smoke-free way to fragrance your room or office. Just add some water and a favourite essential or fragrance oil for an instant aroma experience.

These Aroma Diffusers use an ultrasonic motor to pump out the water so it's very quiet during use. Featuring a colour changing mood light, they can also be used as a simple humidifier.

They use ultrasonic waves to instantly vaporise water and essential oils in the tank, to produce a cool, dry fragrant mist.

Aroma Diffusers are very easy to operate and maintain, only occasionally having to be filled with a small amount of water and a few drops of essential or fragrance oil.
We have four of these amazing diffusers to choose from:
Aroma Diffuser 1
Fengshui Pod - Plug - Led Colours - Timer
- Tank Capacity 400ml

- LED light - 8pcs & warm white led
- Powered by AC Adapter ( length of the cord 170cm)
- Auto power off when water runs out
- Size: Height:10.5cm, Width: 14cm, Weight: 310g
Origin China
Weight 0.32Kg
Dimensions 10.5x14 (cm)
Materials / Ingredients Plastic
Aroma Diffuser 2
Teardrop Aroma Atomiser - USB - LED Colours
- Powered by USB that can be plugged into phone charger or laptop ( length of the cord 100cm)

- Size: Height:19cm, Width: 12cm, Weight: 256g
- Tank Capacity 235ml
- No Timer
- Auto power off when water runs out
Aroma Diffuser 3
Dome Wave Atomiser - Plug - Led Colours - Timer

- Tank Capacity 300ml

- Time mode: 1h, 3h, 6h, ON
- LED light - 6pcs
- Powered by AC Adapter ( length of the cord 170cm)
- Auto power off when water runs out
- Size: Height:12cm, Width: 16.5cm, Weight: 376g
Origin China
Weight 0,38Kg
Dimensions 12x16,5 (cm)
Materials / Ingredients Plastic
Aroma Diffuser 4
Up-Funnel Pot - Plug - Led Colours - Timer
- Tank Capacity 200ml

- Time mode: 1h, 3h, 6h, ON
- LED light - 5pcs
- Powered by AC Adapter ( length of the cord 170cm)
- Auto power off when water runs out
- Size: Height:22cm, Width: 12cm, Weight: 318g
Origin China
Weight 0.32Kg
Dimensions 22x12 (cm)
Materials / Ingredients Plastic