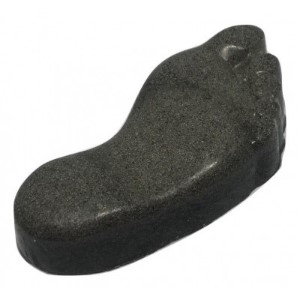 Foot Scrub - Activated Charcoal
£3.95
Only 2 remaining
Activated Charcoal Pumice Foot Scrub
Are your feet over worked and under loved? Our foot scrub bars are sure to keep your feet smelling fresh and looking great too!
The volcanic ground pumice stone will scrub away any dead and dry skin whilst the nourishing coconut oil creates a soapy lather to clean and moisturise your feet at the same time!

You can use these bars multiple times, just put it aside to dry and use it again next time.

A perfect treat for hard working feet!

We have added lots of nourishing Coconut Oil to this one, to make sure your feet are left moisturised too!

How To Use:

Soak your feet in warm water (bath / shower / foot spa / bowl of water)

Dip the foot scrub into the water and scrub your feet with it for an 'at home' pedicure treatment to rival any that you will find at a salon!
Use the top part of the foot scrub (the pumice layer) on any areas of hard or dead skin on your feet, and use the bottom part of the foot scrub (the soap layer) on the rest of your feet, to clean, refresh and moisturise them.
Keep the foot scrub out of the way of water when not using it.
Use the foot scrub once or twice a week, and your feet will soon be looking, feeling and smelling their best!

A great way to get your feet beach ready!

Ingredients:

Aqua, Glycerin, Sodium Laureth Sulfate, Disodium Lauryl Sulfosuccinate, Sodium Stearate, Sodium Laurate, Propylene Glycol, Ground Pumice, Charcoal Powder, Papaver Somniferum (Poppy) Seed, Citrus Limon (Lemon) Peel Oil, Cocos Neucifera (Coconut) Oil, Limonene, Citral.

Handmade in the UK.

Cruelty free, SLS free, paraben free.
Vegetarian and vegan friendly.
Store in a cool, dry place.
Net Weight: 120g