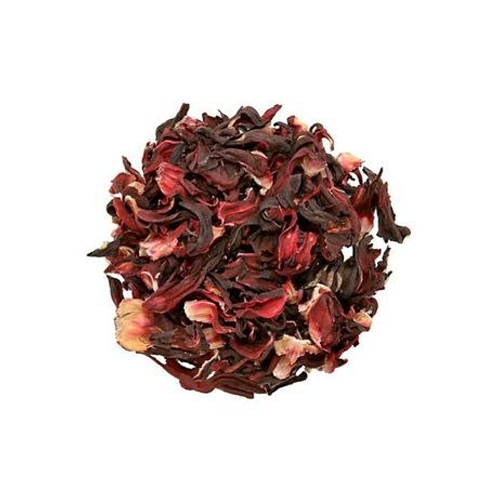 Herbal Tea - Hibiscus Flowers – Whole
£1.00
Hibiscus Flowers - Whole
Product of Egypt
Latin Name: Hibiscus sabdariffaPlant Family: MalvaceaeOther Names: Roselle, Rosella, Kharkady, Karkadé, Karkadi, Karkadeh, Carcade, Flor de Jamaica, Lumanda, Jamaican Sorrel, Tengamora, Bissap Rouge & Rozelle.Our hibiscus flowers are exceptionally high quality, responsibly sourced, non-irradiated and GMO free.
Our hibiscus flowers come from the Roselle plant, native to India and Malaysia, where it is commonly cultivated. It has been successfully established throughout the Tropics and Subtropics of both hemispheres, and in many areas of the Caribbean and Central America.

Breathtaking hibiscus flowers are not only lovely to behold, but also a healthy ingredient used as an ever-so-popular herbal tea! Consumed traditionally by the Pharaohs in Ancient Egypt to help keep cool in the desert, and in Mexico for centuries as an excellent hydrator! It produces an instant ruby red infusion, that is pleasantly tart, with a sour taste very similar to cranberry juice. Popularized in the west as an ingredient in many iced teas, hibiscus tea is known for being naturally high in vitamin C. The tartness can be offset by the addition of a touch of sweetener of choice, excellent with sugar, honey, stevia, and also delicious with spices such as cinnamon, or nutmeg!
Hibiscus tea is an excellent alternative to sports hydration drinks, which are usually packed with unhealthy chemicals, salt and sugar, it is also known to lower blood pressure. Studies show that hibiscus may fight low grade inflammation, reduce anxiety and help combat mild depression. Dieters love hibiscus tea because when consumed regularly, hibiscus tea has shown to aid in lowering the body's absorption of starch, glucose and carbohydrates which may help with weight loss!
Preparation:
Use 1-2 tsp of tea per 200ml of water. Heat water to 95C and steep for 3-5 minutes.
SUGGESTED USE:
The dried flowers can be used to make Karkade Tea (Egyptian hibiscus tea) or to add flavour and natural colour to herbal teas. Whole flowers which contain the calyx contain more natural pectin than the petals alone. The whole flowers are made into Roselle jam which is eaten in Queensland, Australia. The petals can be used to obtain a yellow dye. Details of how to make Karkade Tea are on our 50g packs. One pack makes approx 1500ml "cordial" which can then diluted to make a very refreshing, healthy drink. Try it hot, cold, or over ice (great for a healthy "slush" for the kids"). It also goes really well with gin or vodka cocktails!!!
Must be infused in boiling water prior to consumption.