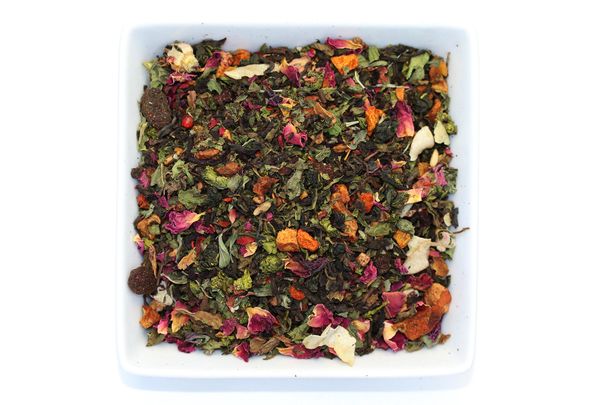 Herbal Tea - Weight Loss - Berry Rose Slenderise
£3.00
Berry Rose Slenderise
Start Losing Weight Today The Natural, Delicious and Safe Way with our
Berry Rose Slenderise Weight Loss Tea
Description
Berry Rose Slenderise to the rescue! Are you looking for a little boost to help eliminate bloat and stubborn fat? Our brand new Berry Rose Slenderise is specially blended with proven fat melting teas to give you an aid that pairs well with discipline and determination!
Our blend starts with our fine Chinese 5 year aged pu'erh; widely consumed worldwide for its incredible health properties, it is pro-biotic, healing, and is proven to cut the fat in your body.
We have also added chickweed herb, which is well known among herbalist's to suppress the appetite, helping you combat cravings, and also relieve bloat, water retention, and encourage the body's natural elimination process.
Fragrant high mountain oolong - another prized fat zapper, along with red berries, pineapple, coconut, mint, and luscious roses are all mingled together to provide you with a mild flavoured fat melting tea blend that is fruity, light and wonderfully refreshing!
You can do it!
Ingredients:
5 Years Aged Pu-Erh, green oolong tea, spearmint, peppermint, rose petals, pineapple cubes, apple pieces, freeze-dried apple pieces, hibiscus, freeze-dried yogurt granules, sultanas, elderberries, coconut chips, freeze-dried banana pieces, freeze-dried cherry pieces, whole raspberries, chickweed.
Preparation:
Use 1 teaspoon of tea per cup of water.
Boil water and allow to cool for a minute, then pour onto the tea.
Cover (to retain beneficial oils) and leave to steep for 3-4 minutes.
Caffeine Level
: Medium