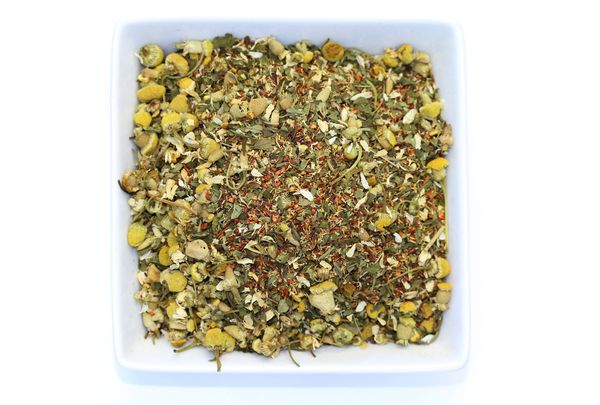 Herbal Tea - Wellness - Lovely Night
£3.50
Lovely Night
25g
Description

A simply lovely vanilla-mint evening time tea blend!
The flavours of rooibos, chamomile, peppermint and vanilla all remain distinct, yet together produces a unique and pleasant flavour combination that is beautifully complementary.
Lovely Night is an all-natural blend we've crafted specifically to help ease your mind and relax your body for a sweet sleep! Widely known to help promote good sleep, chamomile is a mild and relaxing sleep aid; it is also a mild sedative, making its infusion excellent for battling anxious thoughts, mild depression and insomnia.
No need to count sheep any longer! For a new way to enjoy the benefits of chamomile tea, try our Lovely Night!
Ingredients:
Egyptian chamomile, South African Rooibos and fresh peppermint leaves.
Preparation:
Use 1 – 1.5 teaspoons of tea per cup of water.
Boil water and allow to cool for a minute, then pour onto the tea.
Cover (to retain beneficial oils) and leave to steep for 4 - 6 minutes.
Caffeine Level:  Caffeine Free