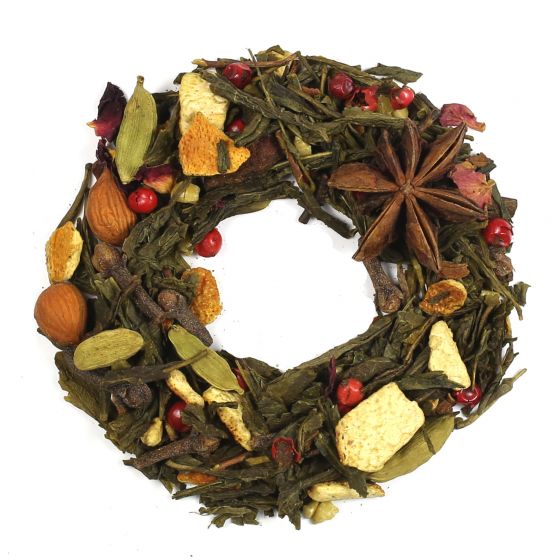 Herbal Tea - Xmas Blends - Gingerbread Flavoured Green Tea
£1.00
Gingerbread Flavoured Green Tea

Description

Gingerbread Flavoured Green Tea brings you a beautifully decorated beverage, brimming with the same delectable sweetness which is a great end to the day. Mouthwatering spices such as Star Anise, Cardamoms, Cloves, and Cinnamon will evoke warm, festive childhood memories in even the grumpiest of grinches.
Ingredients: Chinese Green Tea (38%), Orange Peel, Star Anise, Almond Pieces, Apricot Kernels, Cardamom (whole), Cloves, Pink Peppercorns, Cinnamon Pieces, Natural Flavouring and Rose Petals. Contains Allergen: nuts – almond

Brewing Instructions: Brew using freshly boiled water left to cool to temperatures of 75-80 degrees. Following this, brew for 2-3 minutes, depending on personal tastes.

Health Benefits of Green Tea: Almost all Green Tea types are largely praised for being some of the healthiest brews in the world. Gingerbread Flavoured Green Tea is no exception, and is rich in incredible antioxidants such as Epigallocatechin gallate (EGCG). This particular polyphenolic compound holds the key to many of Gingerbread Flavoured Green Tea's outstanding health benefits.

When consumed as part of a healthy and active lifestyle, EGCG, as well as many other organic compounds found in Green Tea, can reduce "bad" LDL cholesterol, improve cardiovascular health, and even provide excellent weight management! Further to this, recent studies have indicated that the frequent consumption of any type of Green Tea - including, of course, Gingerbread Flavoured Green Tea - could potentially reduce the risks of Dementia and Alzheimer's Disease in older consumers.
Additional info

Type:    Green Tea
Health Benefits:     Anti-Oxidant, Hydrating, Refreshing, Relaxing
Caffeine Level:     Medium
Best Time To Drink It: Lunchtime, Afternoon, Evening
Country:         China